Known as the King of Herbs, Ginseng has been used for thousands of years in Korea, and due to its innumerable health benefits, it is still widely appreciated today. Walking On Sunshine has recently launched their latest menu packed with creative Ginseng dishes and beverages made with real fresh Ginseng from Korea that are delectably suited for everyone!
If you're all about keeping a healthy diet this year, Ginseng is definitely the way to go. Some of the health benefits of consuming Ginseng would be to boost the immune system, improve lung health, and lift your mood – definitely a plus point when it comes to staying on track to a healthy diet!
Now you may be wondering, isn't Korean Ginseng a little too bitter to be consumed normally? Walking On Sunshine has specially infused the Ginseng used in these new dishes with honey to ensure no bitterness while still retaining the much-needed benefits from the Ginseng.
If there is a must-try from the menu, it's definitely the Ginseng Smoothie ($13)! Fun fact, it is blended with a WHOLE Ginseng – yet it tastes velvety sweet with just the right amount of lingering Ginseng notes in your mouth for its aftertaste.
Our next recommendation would be the Grilled Ginseng ($15 – 1 pc/$25 – 2 pc)! Coated generously with a unique blend of sweet and spicy Korean sauce, it makes the perfect appetiser for any meals with its light and refreshing crunchiness from the Ginsengs.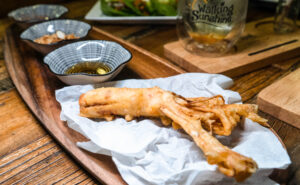 If you are looking for a more authentic and raw taste of Ginseng, go for their best-selling Fried Ginseng ($15 – 1 pc/*Add $10 per piece)- Simply dip it in either Korean Frying Powder Honey, Cinnamon Powder or Granola Honey Almond Crunch for some added flavour! Our personal favourite is the Korean Frying Powder Hone as it adds just the perfect sweetness to the crispy fried Ginseng.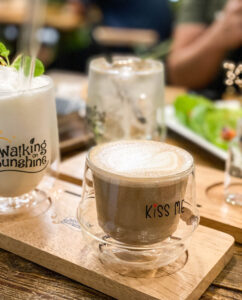 While Ginseng and Coffee may not seem like a well-balanced match, the Ginseng Coffee Latte ($8) somehow goes well together with the distinctive ginseng notes blended perfectly with the subtle bitterness from the coffee. If you're a coffee enthusiast, be sure to give the Ginseng Coffee Latte a shot!
Walking on Sunshine Cafe
Address: 
#03-07 Orchard Central, 181 Orchard Road, Singapore 238896
Operating hours:
Weekdays 11am – 10pm (Last order at 9pm)
Weekends 10am – 10pm (Last order at 9pm)
Website: https://www.walkingonsunshine.sg/