In the Central Business District of Tanjong Pagar hides an authentic Korean restaurant called So Seoul. Their menu consists of the traditional Wagyu Tartare, ala-carte BBQ cuts, pancakes, and more.
First up, side dishes, AKA Banchan, are always something I look forward to when visiting Korean restaurants. At So Seoul, we were served Kimchi and Pickles ($7 each). Interestingly, their Kimchi did not have any form of tartness. It was on a sweeter side, which I had never tasted before. Kimchi usually gets its acidic taste from the fermentation process. However, Kimchi is made every morning during prep time at So Seoul. Hence, that removes the fermentation process, allowing us to taste the cabbage's sweetness and crunchy texture. Their pickles are not sour as well, flavours were well balanced, and vegetables had a snap and crunch to them. Totally pleasant to eat by itself.
From their Signature dishes, we got to try their Soy Marinated Crab ($48), AKA Ganjang Gejang. There is always this fear of consuming raw seafood, being afraid that it might taste fishy. When dining at So Seoul, it went beyond our expectations. Their Soy Marinated Crab came with a bowl of rice and laver. Diners can enjoy this dish by squeezing the meat out of the crab onto a layered piece of rice and, laver, wrapping it up like open-faced sushi. Instantly you get hit with the sweetness and freshness of the crab with a hint of umami infused in the crab from the soy marinade. Every bite was heavenly. These flower crabs are bountiful with roe, which are placed in the shell of the crab. The roes have a buttery and silky texture, instantly making you want another bite.
The number of Soy Marinated Crabs is limited because So Seoul believes that to achieve top quality freshness and satisfaction, they marinade their seafood for only 3.5 days and nothing over. This retains the sweetness of the seafood as well as reduces wastage. Better to reserve your crabs before heading down.
At So Seoul, the majority of their seafood is imported from Tongyeong-si, a city in South Korea. Tongyeong is a port city on the southern coast of South Korea which is known for its fresh seafood! And their Spiny Lobsters are imported from Japan. This ensures that all seafood used by So Seoul is of top quality.
Next up was their Seafood Pancake ($25). It was the best seafood pancake I have had, even compared to those I had in Seoul itself. Their batter was thin and crispy, unlike other places where you could bite into this thick layer of dough, which is unpleasant. It comes with the usual prawns and chives.
Moving on, Bossam ($48) Braised Pork Belly was served with various accompaniments. Wrapped it with a green and enjoy! There is no perfect way of eating this, and you can be creative with all the accompaniments.
BBQ items are a must-have when visiting Korean restaurants! We were served the Marinated Beef Ribs ($30), which were absolutely divine. The marinade was soaked into the beef ribs, adding another depth of flavour to the tender meat. It was perfectly cooked with the meat still being tender and juicy and contains a smoky flavour introduced by the grill. Perfect with a bowl of rice, a piece of lettuce, or even on its own.
Ginseng Chicken Soup ($22) is one of those popular dishes in Korea, AKA Samgye-tang, which is nutritious for us. At So Seoul, the Samgye-tang comes with salt, and sliced leeks on the sides, as the soup is not seasoned with any salt. The clear broth is fragrant and perfect with a pinch of salt. Comes with melt-in-your-mouth pieces of chicken and a huge piece of ginseng.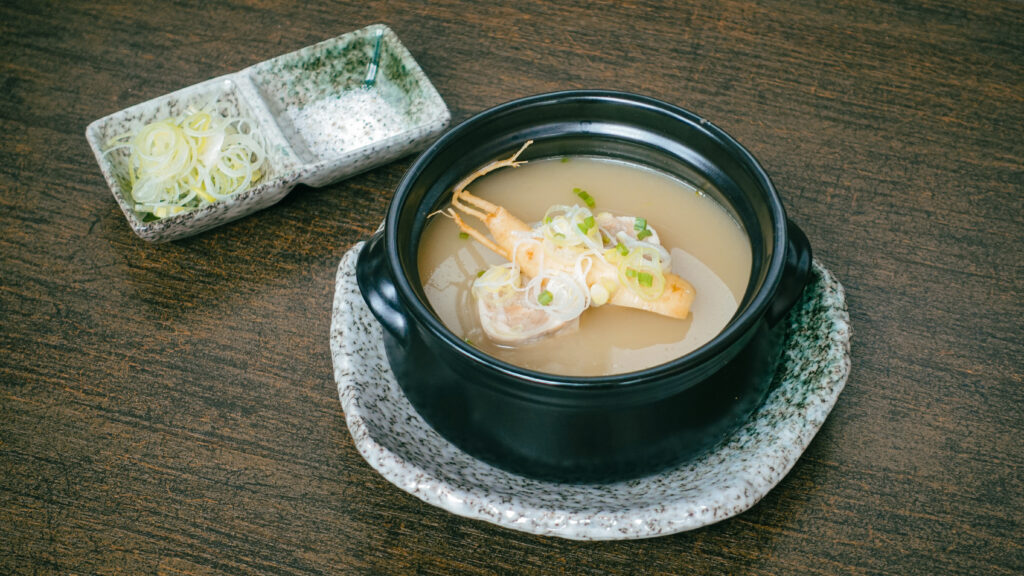 Do visit So Seoul and let us know how you feel!
So Seoul Korean Dining & Bar
Address:
49 Tras St, Singapore 078988
Operating Hours:
Wednesday to Monday, 12–2pm, 5–10pm
Closed on Tuesdays
Whatsapp: 
+65 9896 2928
Website:
Instagram:
https://www.instagram.com/soseoulsg