You may hear a lot about Korea's 10-step Skincare Routine and sigh to yourself thinking, "Ain't nobody got time for that"
LG might just have saved you the time with their new line of beauty tech products aimed at the trendy and up-to-date Singaporeans looking for some good products to help them achieve that glossy healthy skin.
Launching in Singapore are these four brand new products, you'll be sure to glow without taking too much time out of your busy schedule:
1. Dual Cleanser (S$499)
Cleansing – the most important step that one should never skip, every good skin care routine starts off with a good cleanse.
The Dual Cleanser comes with two brush options: a silicone brush for gentle daily cleansing, and a fine fibre brush for deeper cleansing. Amazingly, the device automatically detects which brush is attached and changes the mode accordingly.
This smart brush also comes with two levels of cleansing: Level 1 for daily and light cleanse (70seconds), and Level 2 for a more thorough clean (120seconds), ensuring that the hard-to-reach areas are effortlessly taken care off to help reduce pore size, dead skin cells, and blackheads.
Rest assured, the device is waterproof making it shower friendly and comes with a cradle that has an in-built UV light to sanitise the brush when it's not in use. You can even carry this device along with you on your travels thanks to its compact design and long battery life which lasts for up to a month on a single charge!
2. Galvanic Ion Booster (S$529)
This handy Galvanic Ion Booster is made for the ability to enhance the absorption of ingredients from your skincare products. It has a triangular shaped head aimed at easing over the contours of the face. It uses ultrasonic waves, thermal therapy, as well as iontophoresis – a method that utilises electrical currents to allow nutrients in skin products to reach deeper into the skin's surface.
There are 2 modes:
Cleansing Mode is designed specifically for deep pore cleansing, applying thermal therapy to temporarily loosen pores and draw out impurities such as residual makeup and sebaceous waste from deep beneath the skin's surface.
Boost Mode uses ultrasonic waves to open pores further and deliver the active ingredients of the skincare products via Iontophoresis. A gentle heat massage is followed to relieve facial tension.
Users can apply each mode for 9 minutes a day for a period of two weeks to achieve vibrant skin.
3. Total Lift Up Care (S$699)
The Total Lift Up Care device helps to achieve plump, youthful skin through its tightening and lifting functions.
It's Tightening Mode uses high-frequency thermal therapy and red LED light to penetrate the skin and trigger collagen production while the Lifting Mode stimulates skin tissue and muscles for a tightening and lifting effect.
Use this just twice a week and you can start to see improvements as soon as just 8 weeks!
4. Derma LED Mask (S$1,349)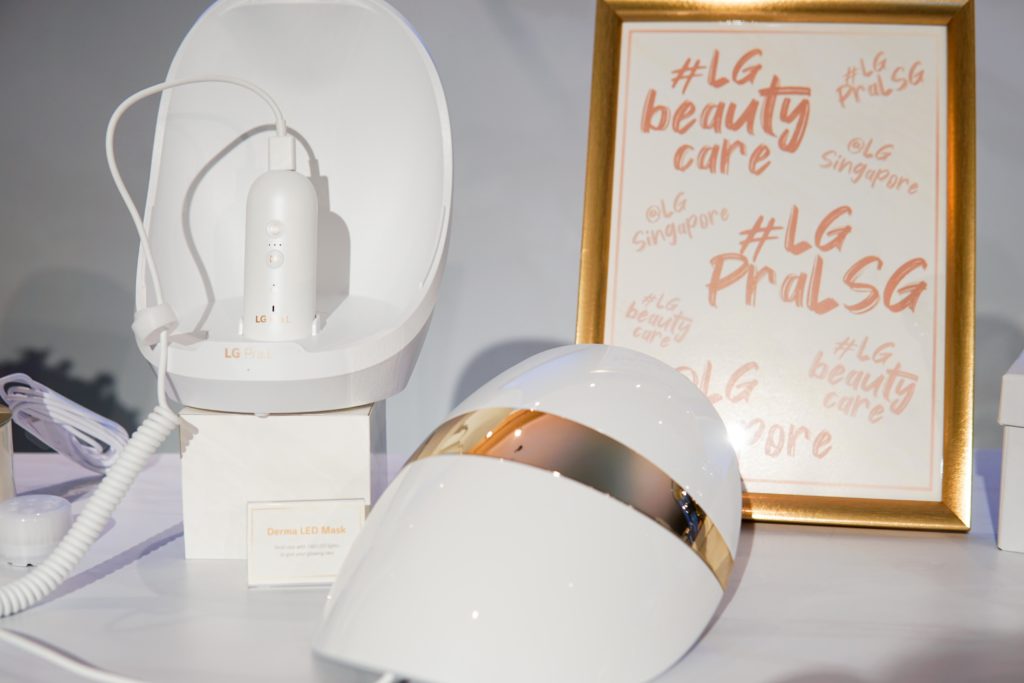 The star of the show is of course the Derma LED Mask. Using 160 LEDs of long- and short- wave light to penetrate the skin at different depths, this LED mask is set to rejuvenate skin layers to encourage cell regeneration for a brighter and more radiant skin.
Once the mask is placed on, it will begin working on your skin all while reminding you how much time is left for your session at every 3 minute interval. Additionally, the automated voice comes in various languages such as English, Mandarin and even Korean.
This is definitely a time saving treatment as you will be achieving all the goodness with the just recommended use of 9 minutes a day.
---
These products are made for durability and will definitely guarantee you healthy looking skin in no time and will keep you glowing for a long time.
The LG Pra.L line is now available in Singapore and you can visit the pop-up store at Tangs Plaza from now till 9th September 2019 to get your hands on these amazing products!