With the year coming to an end, it's the perfect time to unwind and relax. I personally make it a point to find time to sit on the couch with my sinful snacks (B&J's ice cream) and binge-watch on Korean dramas and movies on Viu that I've been eyeing on for the longest time! If you don't already have a Viu Premium membership, fret not! From now till 31 December 2020, majority of Korean, Chinese, Hong Kong, Japanese and Thai dramas, including new and past dramas will be available for you to stream on Viu for FREE*!
Can't decide what shows to binge-watch? Here are 7 notable dramas and movies you should definitely check out on Viu. (we've even included a brief genre for each, you're welcome!)
1. True Beauty (Drama)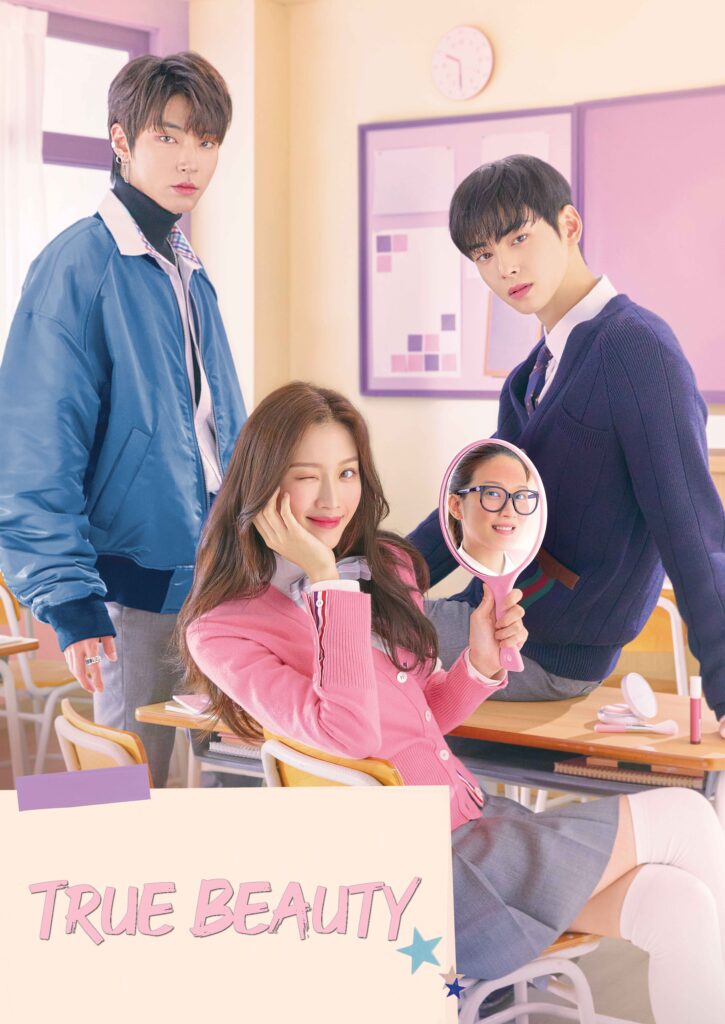 True Beauty – one of the most anticipated webtoon adaptations this year, this light-hearted romantic comedy tells the story of a popular and beautiful high school student Lim Ju Gyeong (Moon Ga Young). Watch as she meets Lee Soo Ho (Cha Eun Woo), a charismatic boy with emotional wounds from his dark past. As they exchange secrets and fall in love with each other, can Soo Ho help Ju Gyeong overcome her insecurities and embrace her natural self? Be prepared for a case of the second lead syndrome as Ju Gyeong becomes acquainted with the handsome but tough-looking Han Seo Jun (Hwang In Yeop)!
Genre: Lighthearted Comedy, High School
2. Mr. Queen (Drama)
What happens when a man from the modern age finds himself waking up in the body of Queen Cheorin (Shin Hye Sun), in the Joseon dynasty? (Think Freaky Friday; body switch) Queen Cheorin is married to King Cheoljong (Kim Jung Hyun), a figurehead who appears nonchalant but is in fact only hiding his true feelings in order to avoid conflict. Brace yourself for plenty of belly-aching laughter as you join Queen Cheorin in her unlikely shenanigans. How will her dynamics with King Cheoljong play out as she gets thrown into unexpected situations?
Genre: Time-travel, Body Switching, Laugh Out Loud Humour
3.  When the Weather Is Fine (Drama)
When the Weather Is Fine is a story about forgiveness, healing, and love taking place around a small bookstore in the countryside. Cellist Hae Won (Park Min Young) is an ordinary woman with good character who has closed the door to love after a few unhappy experiences. Feeling jaded about her life in Seoul, she decides to move back to her hometown – Bookhyun Village, where she meets Im Eun Seob (Seo Kang Joon) who runs a bookshop named "Goodnight Bookstore". Little by little, the two find warmth in each other amidst the coldness of winter. Will the pair fall in love in the idyllic South Korean countryside?
Genre: Romance, Drama
4. Goblin (Drama)
Is it better to live forever or finally be able to die? A decorated military general during the Goryeo Dynasty who was cursed to remain immortal, a goblin (Gong Yoo) is condemned to a lonely existence. He longs to meet his prophesied bride who can set his soul free. Soon, he becomes accidental roommates with a grim reaper (Lee Dong Wook) and meets Ji Eun Tak (Kim Go Eun), a high school student who is able to communicate with the dead. This holiday season, relive the romance, comedy and adorable bromance between Gong Yoo and Lee Dong Wook in this fantasy drama – Goblin!
Genre: Fantasy, Drama, Romance
5. My Love From the Star (Drama)
My Love From the Star follows the romance between an alien and the biggest Hallyu star in Korea. Do Min Joon (Kim Soo Hyun), who landed on Earth 400 years ago during the Joseon Dynasty, possesses a near-perfect appearance and enhanced physical abilities. Holding a cynical view of human beings, he meets Cheon Song Yi (Jun Ji Hyun), a spunky, blunt and seemingly self-absorbed actress struggling with her career. Finding himself slowly entangled in Song Yi's crazy and unpredictable situations, Min Joon and Song Yi eventually fall in love. Be swept off your feet in one of the all-time best-loved K-dramas that also features beautiful wintry landscapes – just what we need to satisfy our wanderlust.
Genre: Fantasy, Romance
6. Secret Zoo (Movie)*
Based on a webtoon, Secret Zoo follows Kang Tae Soo (Ahn Jae Hong), a junior lawyer who is tasked to revitalise a failing zoo. Seeing this as a chance to make a name for himself in the company, Tae Soo is eager to prove his worth. The problem? The zoo does not actually have any animals, and he has only three months to turn its fortune around. With the zookeepers' help, he comes up with an unorthodox idea: to have the zookeepers dress up as animals and put on a show for guests. When a video of him drinking Coca-Cola while wearing a polar bear suit goes viral, the zoo's popularity instantly skyrocketed. But how long can Tae Soo and the zookeepers maintain this charade? Let the goofy zookeepers lift your spirits in this feel-good holiday movie!
Genre: Comedy
7. Okay! Madam (Movie)*
Mi Young (Uhm Jung Hwa) makes and sells twisted breadsticks while her husband Seok Hwan (Park Sung Woong) works as a computer repairman. One day, Seok Hwan wins an all-expenses-paid trip to Hawaii and the couple excitedly embarks on their first-ever overseas trip together. However, things take a turn for the worse when they find themselves sharing the same flight with terrorists and secret agents, during which they are taken hostages with the other passengers on the hijacked plane. Get ready for plenty of laughter in Okay! Madam as Mi Young and Seok Hwan save the day in the most unexpected way possible!
Genre: Comedy, Spy, Action
Let us know if you've watched any of these and what other shows you're planning to watch on Viu during this period!
*Editor's Note (29th November 2020, 8pm): tvN Movies listed in this article – "Secret Zoo" and "Okay! Madam" require a Premium Membership to watch on Viu.